County Fermanagh Ireland - Antique Map - 1837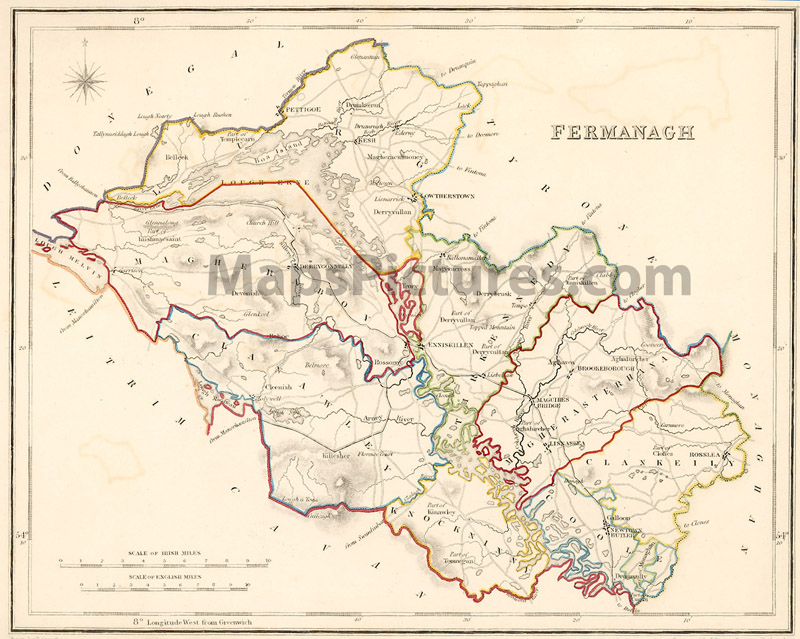 Sorry - This map is not available for sale at larger sizes, please see alternative items further down the page.
Taken from: "Lewis's Atlas, comprising the Counties of Ireland"
Published in London by S. Lewis & Co. 87 Aldersgate Street 27th of September 1837.
Original map image size is approx. 200 x 250mm
Actual maps and other printed items do not have the MapsPictures.com watermark
---
This map was made in 1837, just 10 years before the disaster of the "Great Famine" in 1847. 1837 is a particularly significant time in Ireland's history at the period of the historically highest population and immediately prior to the great exodus of Ireland's population - mainly to the USA, the UK, Canada or Australia.
County Fermanagh statistics
| | | | | |
| --- | --- | --- | --- | --- |
| Area (km² ) | Population 1841 | Density per km² 1841 | Population 2011 | Density per km² 2011 |
| 1,691 | 156,481 | 92 | 61,170 | 36.1 |
Change 1841 to 2011:

95,311 / 61% - decrease
Other items with this map