County Wexford Ireland - Antique Map - 1837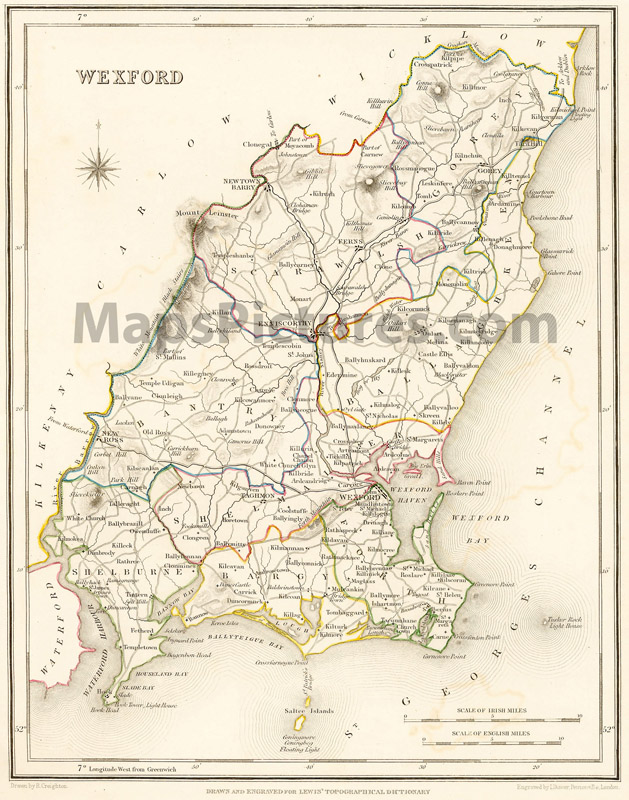 Buy this Wexford Map
Small size
Antique reproduction
$19.99
free shipping to UK and Europe
200mm x 250mm
(7 7/8 x 9 3/4 in)
Buy this Wexford Map
Large size
Antique reproduction
$38.99
free shipping to UK and Europe
310mm x 395mm
(12 3/16 x 15 1/2 in)
---
Taken from: "Lewis's Atlas, comprising the Counties of Ireland"
Published in London by S. Lewis & Co. 87 Aldersgate Street 27th of September 1837.
Original map image size is approx. 200 x 250mm
Actual maps and other printed items do not have the MapsPictures.com watermark
---
This map was made in 1837, just 10 years before the disaster of the "Great Famine" in 1847. 1837 is a particularly significant time in Ireland's history at the period of the historically highest population and immediately prior to the great exodus of Ireland's population - mainly to the USA, the UK, Canada or Australia.
Places marked include:
Districts - Ballaghkeen, Bantry, Bargy, Forth, Gorey, Scarawalsh, Shelburne, Shelmaleer
Town, Villages, Settlements - Adamstown Ambrosetown Andeavan Ardamine Ardcandridge Ardcolme Arthurs Town Artramont Baldwinstown Ballagh Ballyane Ballybrazill Ballybrennan Ballycannow Ballyconnick Ballyconran Ballydunagin Ballyheogue Ballyhiland Ballyhock Ballyhuskand Ballyingly Ballylennan Ballyminnan Ballymitty Ballymore Ballyneslaney Ballyvaldon Ballyvaloo Barrow Blackwater Bridge Town Cahone Point Camolin Carnagh Carne Carnew Carrick Carrig Castle Ennis Chapel Charon Chapple Church Town Clohamen Bridge Clongreen Clonleigh Clonmires Clonmore Clonroche Cloregal Clorsilla Coolagnaney Coolstuffe Courtown Harbour Crassabeg Crosspatrick Danescastle Donaghmore Donowney Drinagh Dunbrody Duncannon Duncormuck Edevmine Enniscorthy Ferns Fetherd Fooksmills Glassonrick Point Gorey Hook Hook head Inch Inch Ishantmon Johnstown Kilbride Kilbride Kilcavan Kilcoan Kilcomb Kilcormuck Kilcowanmore Kildovan Kilgarven Kilgorman Kilkevan Killag Killan Killancooly Killeck Killegorey Killely Killenagh Killesk Killiane Killilane Killilogue Killinick Killinoor Killtennel Killurin Kilmalog Kilmannan Kilmocree Kilmokea Kilmore Kilmuckridge Kilnemanagh Kilnush Kilpatrick Kilrare Kilrehue Kilscanlan Kilscopan Kilthomas Kiltrisk Kilturk Lacken Lacken Laraheen Leskinfere Maglass Mandlintown Melina Monart Monomolin Moyacomb Mulcankin New Ross Newbawn Newtown Barry Old Ross Oulart Owenduffe Oyl Gate Poolshone Head Raheenahoun Ramsgrange Rathaspeck Rathmacknee Rathroe Roslane Rossdroit Rossmanogue Scanawalsh Bridge Skreen Slade Slade Bay Slievebawn St. Helen St. Iberius St. James St. John St. John's St. Margarets St. Michael St. Michael St. Nicholas St. Peter Taca Hill Tacumshane Taghmor Tagoat Talleraght Temple Udigan Templeshambo Templeshannon Templetown Templscobin Tickillin Tintern Tomhaggard Wexford White Church White Church Glyn
County Wexford statistics
| | | | | |
| --- | --- | --- | --- | --- |
| Area (km² ) | Population 1841 | Density per km² 1841 | Population 2016 | Density per km² 2016 |
| 2,352 | 202,033 | 86 | 149,722 | 63.2 |
Change 1841 to 2016:

52,311 / 25.9% - decrease
Buy a Reproduction Copy of This Fine Old Map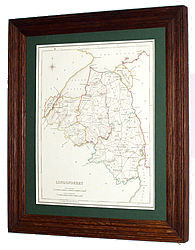 The maps on this site are reproductions taken from a very high resolution digital scans of the originals. They are available for purchase as decorative prints for mounting and display or may be useful in genealogy. The maps are clear and colours bright. There is some staining and antique discolouration as would be expected of such old documents, this is faithfully reproduced and adds to the atmosphere of the reproduction prints.
The printed detail is far greater than reproduced on this web site, to produce a more accurate scan would result in huge file sizes.
Please note maps are supplied as the print only and are UN-mounted and UN-framed, the example to the right is shown for illustration only with a single mounting board and dark oak frame. Dark green mounting board is recommended as it suits the colours well and is authentic of the period.
Reproduction prints are on heavyweight textured *192g/sqm paper. Archival quality paper and inks have been used, the combination of which gives an estimated lifespan of at least 75 years.
Other items with this map