Reproduction Antique Maps
Modern Prints
Kilkenny Map
County Maps of Ireland - 1837

Small Kilkenny map
Reproduction
$18.99 inc. free worldwide airmail postage
200mm x 250mm
(7 7/8 x 9 3/4 in)

Large Kilkenny map
Reproduction
$36.99 inc. free worldwide airmail postage
310mm x 395mm
(12 3/16 x 15 1/2 in)

Taken from:
"Lewis's Atlas, comprising the Counties of Ireland"

Published in London by S. Lewis & Co. 87 Aldersgate Street
27th of September 1837.
This map was made in 1837, just 10 years before the disaster of the "Great Famine" in 1847. 1837 is a particularly significant time in Ireland's history at the period of the historically highest population and immediately prior to the great exodus of Ireland's population - in particular to the United States.

The original map image size is approx. 200 x 250mm - See larger image

Places marked include:

Districts - Galmoy, Fassadineen, Gowran, Shillelogher, County of the City of Kilkenny, Kells, Ida, Knocktopher, Iverk

Town, Villages, Settlements - Agharny Aghaviller Aghnamult Aghour Attanagh Baligunn Ballaghtobin Balliascan Ballieallan Ballinamore Ballitarsney Ballynagget Ballynakill Bennettsbridge Blacknath Buely Burntchurch Callan Liberty Castlecomer Clarah Clashcrow Clogmantagh Clonamexy Clonmore Clontubrid Collumkill Coolaghmore Cooleashin Cooleraghin Demekernery Disertmore Donaghmore Dunfert Dungarvan Dunkild Dunmore Dunnow Dysert Earlstown Eirke Ennisnag Farlagh Ferrybank Fiddown Freshford Gallaskill Glishare Goresbridge Gowran Graig Grange Inchihelahan Innistiogue Irishtown Jerpoint John Johnstown Kells Kihnoear Kilbeacon Kilbride Kilcolm Kilcullheen Kilderry Kilfane Kilfiera Kilkernil Kilkyran Killahy Killaloe Killarney Kilmacahill Kilmademage Kilmaeour Kilmagavny Kilmanagh Kilmanivoge Kilmeenan Kilmodeen Kilneady Kilnush Kilroa Knocktopher Mayre Mothel Muccully Muckully Odogh Outnagh Pilltown Poleran Portnescully Powerstown Rathcool Rathkyran Rathpatrick Roscornel Rossbercon Rowen Shanbough Shankill Silvia St. Canice St. Martin St. Mary St. Patrick Stamcarthy Tascoffin Thomastown Tipperraghuy Tubrid Tubridbritain Tullaghmain Tulloherin Tulloroan Ullid Ullord Urlingford Whitechurch

County Kilkenny statistics
| | | | | |
| --- | --- | --- | --- | --- |
| Area (km² ) | Population 1841 | Density per km² 1841 | Population 2011 | Density per km² 2011 |
| 2,061 | 202,420 | 98 | 95,419 | 46 |
Change 1841 - 2011: 107,001 / 53% - decrease
Buy a Reproduction Copy of This Fine Old Map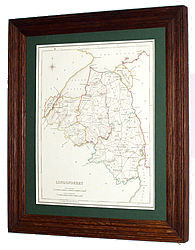 The maps on this site are taken from a very high resolution digital scans of the originals. They are available for purchase for use in genealogy and as decorative prints for mounting and display. The maps are clear and colours bright. There is some staining and antique discolouration as would be expected of such old documents, this is faithfully reproduced and add to the atmosphere of the reproduction prints.
The printed detail is far greater than reproduced on this web site, as to produce a more accurate scan would result in huge file sizes and excessive download times.
Please note maps are supplied as the print only and are UN-mounted and UN-framed, the example to the right is shown for illustration only with a single mounting board and dark oak frame. Dark green mounting board is recommended as it suits the colours well and is authentic of the period.
Small - As the original
$18.99 inc. free worldwide airmail postage
Large - Greater clarity
$36.99 inc. free worldwide airmail postage
Reproduction prints are on heavyweight textured *192g/sqm paper. Archival quality paper and inks have been used, the combination of which gives an estimated lifespan of at least 75 years.