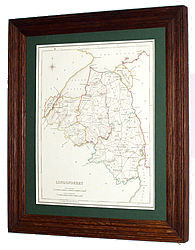 The maps on this site are taken from a very high resolution digital scans of the originals. They are available for purchase for use in genealogy and as decorative prints for mounting and display. The maps are clear and colours bright. There is some staining and antique discolouration as would be expected of such old documents, this is faithfully reproduced and add to the atmosphere of the reproduction prints.
The printed detail is far greater than reproduced on this web site, as to produce a more accurate scan would result in huge file sizes and excessive download times.
Please note maps are supplied as the print only and are UN-mounted and UN-framed, the example to the right is shown for illustration only with a single mounting board and dark oak frame. Dark green mounting board is recommended as it suits the colours well and is authentic of the period.
Small - As the original
$18.99 inc. free worldwide airmail postage
Large - Greater clarity
$36.99 inc. free worldwide airmail postage
Reproduction prints are on heavyweight textured *192g/sqm paper. Archival quality paper and inks have been used, the combination of which gives an estimated lifespan of at least 75 years.